Minister Cain Mathema Stays In US$250 Per Day Hotel With His Young Wife For A Year While Failing To Clear Passport Backlog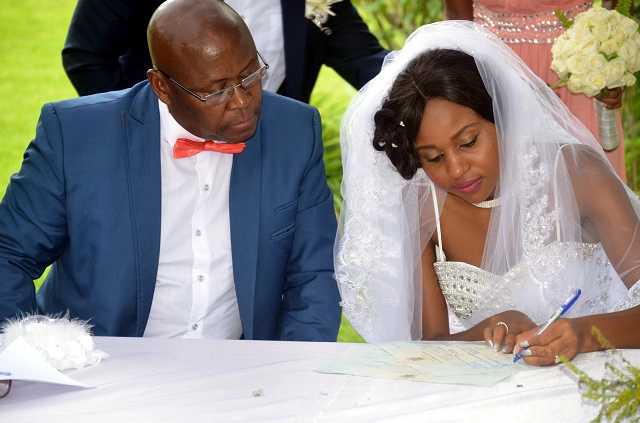 Home Affairs Minister Cain Mathema is into his second year staying at a Harare hotel at taxpayers' expense, ZimLive has learnt.
Mathema has been staying at Rainbow Towers in Harare since September 2018 when he was appointed into the cabinet by President Emmerson Mnangagwa who won a disputed vote.
The broke government previously allocated government houses for use by ministers, but accommodation shortages have meant that ministers who have no properties in Harare are put up in hotels while accommodation is sought.
Former vice president Phelekezela Mphoko faced a public backlash after clocking almost two years at the same hotel.
A source told ZimLive: "Mathema does not own a house in Harare and the hotel is his home since September 2018. In fact he does not own a house anywhere, other than a small flat in Bulawayo which his ex-wife Musa Ncube held onto after they divorced.
"When he was a provincial minister for Matabeleland North, he lived in the village in Tsholotsho and would drive up and down to Bulawayo daily." Government spokesman Nick Mangwana said there was nothing special about Mathema's hotel stay.
"My understanding is that he uses it (hotel) in the same way MPs do. That's when there's a cabinet, which means a couple of days a week or so. There's definitely no block booking for a long stretch. So no, he does not stay there but checks in the same way a Harare-based bureaucrat does when he works in Bulawayo," Mangwana said.
Mathema is staying in one of the hotel's expensive suites at a rate of about US$250 daily, hotel sources said.
Mathems's deputy minister Mike Madiro recently told senate that his ministry was struggling to process 370 000 passport applications due to a severe shortage of resources, which Mathema is squandering daily at the hotel.
Madiro had been asked by Chief Shepherd Gundu to explain government plans to address the country's ever-increasing passports backlog.
"It is government's position that passports should be accessed by every Zimbabwean whenever they need them, but theproblem we have at the moment are the resources to use in making those passports," Madiro said.
"As of now, we have very little resources and can only issue 800 passports per day, while a lot of people are waiting to get their passports. We have 370 000 people who are waiting for passports."
Madiro said among the people who were waiting to get passports were the sick, who wanted to urgently travel outside the country for treatment.
"There are also students, which makes it difficult for the Registrar-General's Office to issue emergency travel documents," he said.
Zimlive/ZimEye.com