Zimbabwe's Finance Chiefs Grilled By Opposition In Parly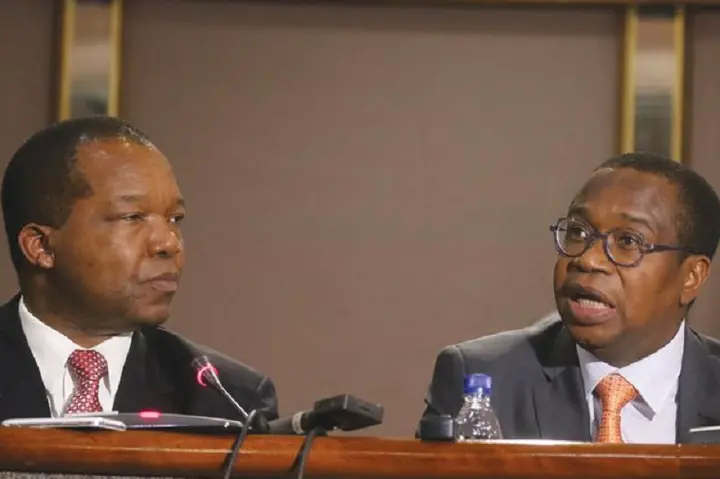 Zimbabwe Finance minister Mthuli Ncube and Reserve Bank governor John Mangudya were in the firing line this week as opposition legislators took them to task about their roles and decisions in trying to kickstart the economy.
At the 2020 prebudget seminar held at Victoria Falls, legislators emphasised the need to direct more financial resources towards health, education, agriculture, manufacturing, mining and infrastructure.
The MDC Alliance's Lilian Timveos, of the Midlands province, said Ncube was out of touch with reality as he was failing to create jobs, fight corruption and hunt illgotten wealth.
"The pace you are running this economy at is not at a point of yielding any jobs," she said.
"People are suffering, yet when someone is caught stealing money there is no statutory instrument which stipulates they return that money. Some people have helicopters, huge properties. Why are you are not targeting them? You look at the informal sector that sells goods not of value like vegetables and you say you want to go after them on top of the 2% being taxed from them.
"How are you going to manage the doctors to at least give them a decent salary to save lives? Minister, you cannot say you are handling the national purse well and I am sorry to say you have really done a bad job."
The MDC Alliance's Tapiwa Mashakada, of Hatfield constituency in Harare, said austerity without growth was bad for the country.
"People are dying in hospitals due to a lack of drugs and hunger. I expected you to address that because it doesn't have to be austerity alone without growth," he said.
But Ncube defended his performance by giving figures on his attempts to feed the hungry.
"We are currently feeding 1million rural households and an additional 2.5million people in the urban areas. We are also doing cash transfers to these vulnerable individuals and their families, so I can assure you that every week it's one of the first agendas in the cabinet as to how many people were fed that week," he said.
Mashakada also asked why Ncube and Mangudya opposed market forces towards dollarisation as other legislators bemoaned the government's policy inconsistencies.
"The economy is redollarising as we must not ignore what's happening on the market," said Mashakada.
"Let's have a conversation of why people continue to dollarise. Their mindset has dollarised and we don't know how this budget will inspire confidence when people's minds have changed."
Ncube told legislators that politics was harming the economy.
Caston Matewu, from the MDC Alliance area of Marondera Central, suggested that the Reserve Bank should be divorced from the government, just like in SA.
"There is one big elephant in the room, which is politics. You mentioned that there was 19.7% growth in 2010 when there was political stability, so in line with politics in economics, one thing we are calling for is the independence of the central bank.
"What can be done to ensure its independence, which will stop the Finance Minister writing to the central bank to command them to issue Treasury bills which is something that has brought the economy to its knees in the past few years?" he said.
Reserve Bank governor Mangudya had a tough time explaining why there was a cash crisis yet a lot of it was circulating on the black market.
"This economy is made up of 61% informal employment and that money moves from the bank, and once this money is outside the bank it stays there.
"That's why we need to formalise this economy so the money goes to the bank. Due to its scarcity this is why we are bringing the new notes to close that gap," Mangudya said.
Binga North MP Prince Dubeko (MDC Alliance) said Mangudya and Ncube "wilfully violated the laws of borrowing".
"How do you expect an investor to have confidence when you can wilfully violate the laws of the country, and how do you speak about productivity when the interest rate is running at above 70%?"
Ncube is expected to present the 2020 budget later this month. –The Sunday Times