Chihuri Speaks On Failed Attempt To Arrest Chiwenga At RGM Airport Before The Coup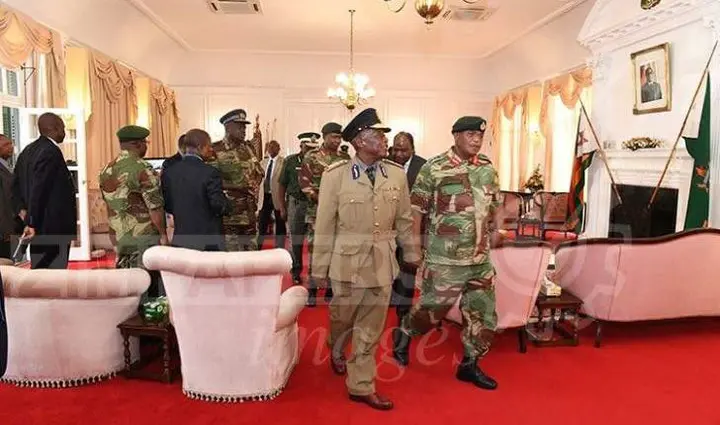 Former Zimbabwe Police Commissioner Augustine Chihuri has spoken for the first time about the failed attempt to arrest then Zimbabwe Army General Constantino Chiwenga at Robert Mugabe International Airport.
The ex police boss made the claim in his affidavit to defend the forfeiture of his assets by the state.
He accused police commissioner Godwin Matanga of linking him to the airport story to discredit him from the coup plotters.
It is reported that two weeks from the coup, police officers in plain clothing failed to arrest Chiwenga at the airport. The police were outsmarted by military intelligence officers who had been briefed about the attempt to arrest their boss for plotting a coup. Military officers disguised and dressed as National Handling Services workers made their way into the runway entrance and escorted Chiwenga before arresting the police officers who had been sent by Chihuri. So dramatic were the scenes that the police officers found themselves surrounded by the military and were forced to disarm before being bundled into a van.
The incident is believed to be the reason Chiwenga and Mnangagwa changed their focus from ousting Mugabe at the Zanu PF Congress to plotting a coup. Chiwenga is reported to have called Mugabe as soon as he reached his KG6 office questioning the reasons behind the attempted arrest. Soon after the incident, Chiwenga and his generals addressed a press conference demanding that the President fire criminals in the Zanu PF party among other demands.
Chihuri said Matanga lied to then Zimbabwe Defence Forces commander and now Vice-President Constantino Chiwenga that he (Chihuri) wanted to arrest him upon his return from his China trip at Robert Mugabe International Airport just before the coup.
Chihuri claims Matanga rode on the story to win the loyalty of the Zimbabwe Defense Forces and Army General Chiwenga and consequently be considered for the top police office after the coup.
"This was not so, but a blatant lie to sow the seeds of division and hate between me and the then CDF. Godwin Matanga did all this to secure his position," he said.