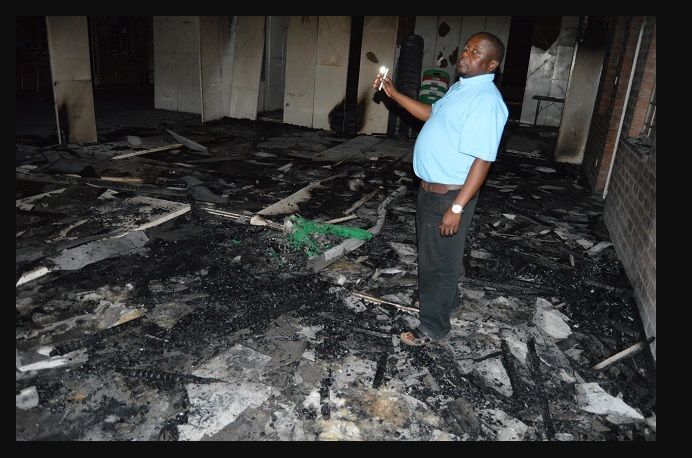 A ROMAN Catholic Church hall in Cowdray Park, Bulawayo went up in smoke yesterday, destroying property valued at thousands of dollars.
The fire only affected the Holy Trinity Parish hall as Bulawayo Fire Brigade officials reacted promptly before the fire spread to other buildings.
Confirming the fire incident, Bulawayo Fire Brigade senior divisional officer, Mr Linos Phiri said the fire began from the ceiling and they were suspecting that it had emanated from an electrical fault.
"Initial investigations of the burnt hall revealed that the fire started in the ceiling hence our belief that this could have been an electrical fault. However, our officials will continue investigating and have a full report on the actual cause of the fire by next week.
"We however, advice residents to constantly check their electrical connections to avoid such fires because they might lose property worth thousands of dollars, something which can easily be avoided through the constant checking of electrical connections," said Mr Phiri.
Holy Trinity Parish priest, Father Gilbert Moyo said they were still assessing the extent of the damage, saying it was premature for them to estimate the exact value of the property lost to the fire.
"We are not yet sure of how much damage the fire caused, neither do we have information on what could have started the fire as yet. For now all I can say is that we lost property valued at thousands of dollars but we will get the exact figure within a day or two. We will continue working with the Fire Brigade to establish the cause of this unfortunate fire. It is however fortunate that there was no one in the church yard at the particular moment so there were no casualties," said Fr Moyo.
The Parish chairperson Mr Dumisani Nyoni echoed Fr Moyo's sentiments saying that it was going to be sad if there were going to be casualties noting that a building could be easily built back but the loss of human life was going to be more tragic. – state media