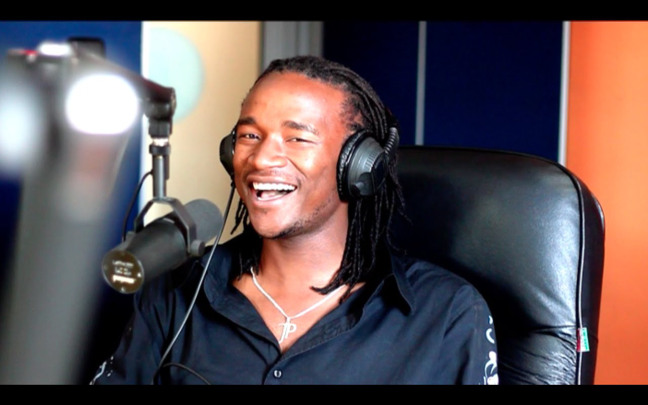 Just Jean | He is Zimbabwe's male equivalent to Adele, a little overrated of course though greatly talented. He's a young rising contemporary musician who goes by the stage name Jah Prayzah, real name Mukudzeyi Mukombe. He recently celebrated a million views on You Tube. Yes in Zimbabwe a million hits on You Tube is historical and epic. Zimbabwe being a very small country with only a population of 14 million, it is very difficult for musicians to get a million views on You Tube. The first Zimbabwean to ever got a million hits was Taps Mugadza who is now based in USA. He only managed to achieve over a million hits when he did a stunning cover of Adele's Hello. The second person in Zimbabwaen history to get more than a million hits on a musical video was Ammara Brown with her hit song with Tytan, Mukoko. The third Zimbabwean musician to hit a million views is now of course the rising Jah Prayzah. Simply unstoppable. He recently hit the million milestone with a collaboration he did with one of the highest selling Tanzanian  recording artists, Diamond Platnumz. There is no denying that because of his recent success, Jah Prayzah is without a doubt the most popular musician in Zimbabwe at the moment.
Personally am not a fan of him, not because I think his a bad musician, I just don't connect with the type of music he sings. All I know is he is currently at the height of his career. I understand and respect that he is a public figure, successful, and adored by thousands. Unlike his fans, I have no connection to this man, spiritually, emotionally or musically  hence I can make a rational clear judgement on what has been recently reported in the Zimbabwean papers about him.
Over the last few days, a Zimbabwean single mother of two who likes to be called Gonyeti, though her real name is Pamela Zulu has suddenly came forward with claims that she was sexually abused by  Jah Prayzah. In her own words she said she used to have sexual intercourse with the married father of three in order to secure and keep her job as his dancer. Gonyeti who was sacked by Jah Prayer in Augast feels extremely hurt by her former employer and believes what she endured under his leadership was nothing but sexual exploitation. On top of the sensational claims of sexual abuse, Gonyeti also claims that Jah Prayzah also financially abused her , making her work for him without full pay. He currently owes her 'outstanding' fees for studio works among other performances, a claim which Jah Prayzah himself allegedly agrees.
However yesterday, Gonyeti faced a fierce backlash on social media as she faced the wrath of Jah's fans, mostly middle aged Zimbabwean women, calling her a whore among other derogatory names. Its very tragic because these are the women who aid and help men to sexually abuse and exploit women in our society. Their argument is that she willingly slept with Jah so she should not cry abuse just because she has now been sacked/dumped. The fact that Jah Prayzah is a married man does not faze them one bit. The fact that this married father sleeps around with his employers in order for them to keep their jobs does not faze them at all. It's just what men do, they say with their heads and faces high. "Men sleep with anything that opens its legs to them" a shocking comment from a woman read. It doesn't bother them that he is a high profile celebrity, a public figure who is supposed to be an example to the young generation. Just because they are mesmerized by his music, all moral ethics has gone out of the window and now all their energy is directed at demonizing the woman that their idol allegedly abused.
I was compelled to write this article because I know how hard it is to do what Gonyeti has done. When a woman reports that she has been abused by a high profile person, she needs all the support she can get, even just one person to stand by her and believe her. It is more difficult to report such abuse in an African society, because sadly in Africa, abuse and exploitation of women are sometimes the norm. It is brushed under the carpet, ridiculed and the saddest thing is, the women who are victims of abuse are often castigated and called names, not only by the men, but mostly by other women especially when the case is involving an idolized celebrity.
Reporting sexual abuse is sometimes not even about being compensated or winning a court case. Its about telling the world what kind of a person the abuser really is. What their idol is really like beyond closed doors. The bible says what they do in secret will be said on roof tops. By sharing her story, Gonyeti is saving another vulnerable girl or woman from being potentially sexually exploited by Jah Prayzah. By sharing her story, she is giving courage to other women that they too can be brave and share their stories, minimizing sexual abuse and exploitation of females in the entertainment industry in Africa. By sharing her story, Gonyeti will discover that she is stronger than she ever thought, and that no man, famous or not can treat her like a slave and get away with it. By talking about it, Gonyeti is sending a clear message to a lot of men out there, that using their power and status to abuse women is totally unacceptable. By sharing her story, Gonyeti has delivered herself, its therapeutic to talk it out, speaking is always the first step towards healing.
In my conclusion, I may live in a world apart from Gonyeti but I understand her and I believe her because of some experiences I have been through in life. I have learnt that it's okay to have even 5 people who believe you. The truth is powerful by itself, it doesn't need masses to validate it. Being a single mother is tough, especially in Africa, a lot of men are ready to devour and take advantage, but Gonyeti has proved to be a lioness, even Jah Prayzah and his minions will not bring her down. Maybe she has gone public because someone out there, watching her right now, is ready to take her to her next career level as an entertainer and dancer. Maybe she has gone public because her Boaz who is out there needed to read about Gonyeti, and he will come and redeem her and take away her reproach. Gonyeti, you have done the right thing, justice always prevails one way or the other. If you were truly abused, God will vindicate you, sometimes in ways that you never expected.
Speaking about God vindicating abuse victims. It's not always women who are abused by men. In Zimbabwe, some female celebrities  also abuse male celebrities. A few months ago a female dance-hall artist called Lady Squanda real name Sandra Gazi shamelessly assaulted a vulnerable young comedian called Skimbo real name Tinashe Matika over a comedy video. The abuse was horrific to watch as Lady Squanda recorded herself mercilessly beating and verbally assaulting a visibly upset Skimbo. After the beatings, Lady Squanda then forced the poor guy to lick her foot. As the abuse video went viral, the backlash on Squanda was irreversible. That was the beginning of the end of her music career as her tour to the UK was cancelled by the promoters and her place given to Skimbo. Skimbo  got the courage stand up to the abuse and reported Squanda to the police resulting in Squanda fleeing the country to South Africa. Since then she is still in hiding and has not been seen in Zimbabwe. She apologized to Skimbo but it was a little too late. Skimbo who did not have a passport and had never been on a plane before is currently in the UK as I write this article. As I said if you were truly abused, celebrity or not, God will vindicate you in ways beyond your comprehension, its not always about arrests and legal justice. True justice comes from God.
On a lighter note, still speaking about Zimbabwean celebrities and abuse. Some celebrities are the abusers but sometimes the celebrities are also abused by ordinary people for no reason at all other than jealousy and envy. I have seen a lot of talk on Zim social media lately about what constitutes a Zimbabwean celebrity. The debate seems to have arised after a socialite/Facebook celebrity asked Ammara Brown for a selfie to which Ammara declined. As I mentioned before, Ammara Brown is the second Zimbabwean and the only woman in Zimbabwean entertainment history to have a musical video that has reached a million hits.  Its just a fact that cant be denied. Her hit song Mukoko was not only a hit in Zimbabwe, but I know without a doubt that it was a hit among Ghanaians too. I know this because my husband from Ghana and his friends knew Ammara's song way before I did. I think its rather pathetic that some Zimbabweans can slander this woman on social media and say she is not a celebrity because she has a one hit song.
Ammara Brown has achieved something that no female in Zimbabwe has achieved. She is a musician in her own right and a daughter of a Zimbabwean legend, Andy Brown, surely that constitutes of some status in society,  she is not an ordinary girl. She may have just a one hit wonder but so does many high profile celebrities across the world who have made millions from just having a one hit song and then made a career out of that one song. It doesn't make them any less of a celebrity. Ammara is a Zimbabwean A list celebrity, considering we haven't got much going in the music department, especially among females. And she has every right to decline a selfie, celebrity or not. Many people do that for various personal reasons. I am one of those people who sometimes just don't want a camera near me. I have to be prepared and ready. Not in the mood, a bad hair day or just a spot on the face are just a few of the legitimate reasons why people refuse to have their pictures taken. No one has the right to feel offended because of that. Its their image and their reputation at stake. No need to bully someone online because of a selfie, lol, what a sad society we now live in. I also believe, had Ammara been a male celebrity who refused to take a selfie with a fan, no one would have raised an eyebrow and it would be a non story. Well done Ammara for maintaining a professional dignified silence, you have taught me that there are some battles which are not worth fighting. I never used to be your fan, but actually as from today you have gained one more fan to the millions who love your music. You are a beautiful girl, inside and out and sometimes unnecessary storms come our way to elevate us, like eagles use this time to soar higher to those greater heights you dream of.