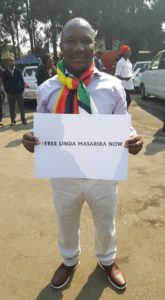 Staff Reporter | Prolific protester, Linda Masarira's second hearing is being held at Mbare Magistrate Court this morning, with scores of Zimbabweans coming out in full support of her.
UPDATE – At 2PM ruling on the application made by the defense for Linda to be transferred to Mutare where she has a pending warrant of arrest, will be made.
UPDATE – We have just received a report that Linda's Constitutional Court Application has been dismissed, on the grounds that there are no merits for success. Linda also has another outstanding matter in the courts in Mutare and her case is now being referred there. The magistrate will rule on 11 August on the application to refer to Mutare.
Speaking from the court activist Mfundo Mlilo said, "There is massive solidarity from a cross section of society….Linda is also there and in high spirits. They are failing to break her spirit."
Her lawyers led by Kudzayi Erick Kadzere have asked the Magistrate at Mbare to refer her matter to the Constitutional Court, the country's apex court, for determination of the violation of her constitutional rights as the lawyers are convinced that she was detained beyond the prescribed 48 hour period before she was brought for her initial appearance in court. According to the Lawyers For Human Rights.