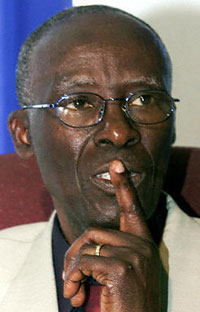 Staff Reporter| Newly elected National People's Party (NPP) Second Vice President Samuel Sipepa Nkomo was on Wednesday afternoon heavily embarrassed as he turned up at his former boss Morgan Tsvangirai's home for the coalition Memorandum Of Understanding signing ceremony hours after the event had taken place.
Sources at the former Prime Minister's government owned mansion told ZimEye.com that the disgraced Sipepa Nkomo arrived in a huff almost two hours after his current boss Joice Mujuru and team had signed the MOU and left the MDCT leader's home.
According to the sources, security personnel had initially refused to let Sipepa Nkomo through claiming not to know him and did not have his name on the guests. Tsvangirai eventually authorised the security team to let him through.
The sources say that Tsvangirai expressed shock at Sipepa's late arrival for the ceremony and lack of communication between him and his party in his capacity as Vice President.
Mujuru had however been accompanied to the signing ceremony by First Vice President Mvundura, National Chairman Dzikamai Mavhaire and Cuthbert Dube who incidentally lost the Second Vice Presidency to Nkomo in the recent internal party elections.
Sipepa Nkomo and Tsvangirai last met some three years ago when Nkomo led a group of rebellious MDCT members to a National Executive Committee meeting at Mandel Training Centre where he declared himself the interim leader of the MDCT and announced the "dismissal" of Tsvangirai from the party.
Nkomo was however himself eventually officially dismissed from the party leading to the formation of the MDC Renewal party which he led on an interim basis before the party officially emerged as the People's Democratic Party led by Tendai Biti. Nkomo dumped the party mid last year to join the Mujuru led NPP where he was recruited to take over the Vice President position.
Relations between Nkomo and Tsvangirai have never mended since the Mandel Training Centre "alleged coup" and all eyes are watching how the two will work together in formulating the envisaged 2018 coalition arrangements.