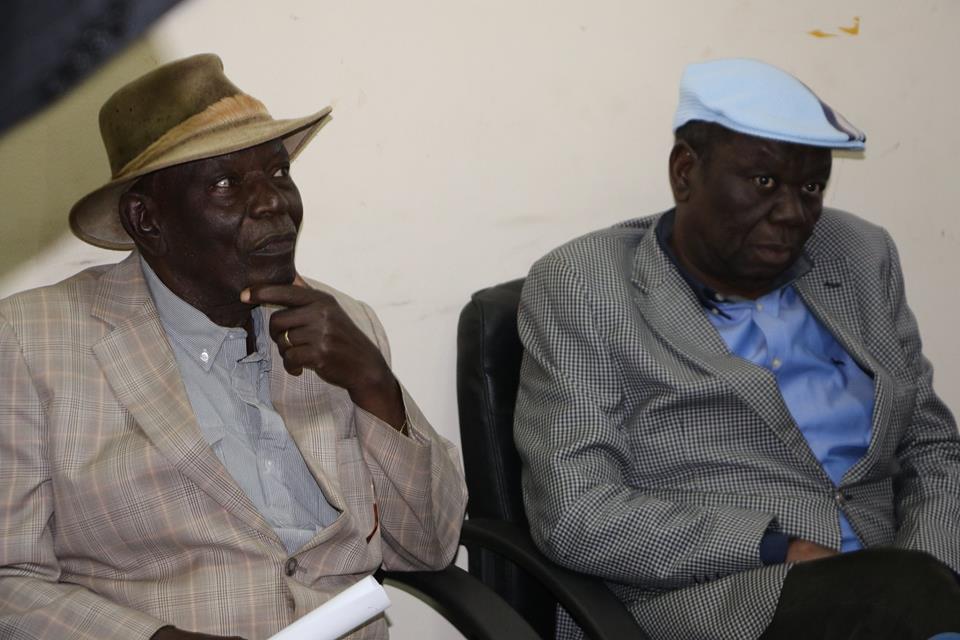 Staff Reporter |  Morgan Tsvangirai and Joice Mujuru are currently embroiled in an invisible war for supremacy, it has emerged. Progress towards the establishment of a grand coalition could hit another brick wall after the leak of minutes of a Joice Mujuru led, provincial women's meeting. The leaking comes at a time that a WhatsApp war between the parties was starting to get out of hand.
The meeting of the Zimbabwe People First structures held in Harare on the 19th of October was chaired by the Province's chair, Susan Chuma. The meeting minutes indicate that on the agenda was 'zimpf agenda on Nera.' In the minutes that were leaked to journalists and also posted on social media platforms, Chuma starts by lobbying the party structure to do away with NERA.
Below are the full unedited minutes.
ZimPf women's league provincial meeting
Date: 19/10/16
Time: 10:30am – 1300hrs
Venue: Harare province (Chiroto) vice chairman's place
Attendence: 48 people (Harare women provincial members)
Chaired by: Susan Chuma (provincial chairlady)
Agenda: zimpf agenda on Nera
AOB: resignation letter of EE Vambe
Chuma told the attendees that ZimPf should do away with the NERA issue as it is complicating things. There is no TRUE marriage as MDC-t supporters are not ready to practice democracy in electing the leader of the coalition party.
She said coalition leader must be voted by leaders of all opposition political parties who are a signatory to NERA.
Which means the 12 opposition parties who are signatories to NERA shall elect one president to lead the coalition. But the mdc-t is playing a hide and see game by twisting the truth and spread the NERA gospel in their favour.
She gave an example of what happened during the demos under the banner of NERA, people were injured and hospitalised while some were arrested and prosecuted in the court of law.
We as zimpf we had our lawyers to assist those who were arrested but we heard mdc-t supporters claiming that the lawyers were send by Morgan Tsvangirai.
In the cells we provided food but they were saying it was morgan.
In hospitals we did all we could to ensure that our opposition supporters are getting treatment and of cause we were partnering mdc but they were and are saying the support was coming from morgan and even deprive our zimpf access to food and refreshments claiming that it was donated by morgan and if u want u have to come and join mdc.
She also talked about the NERA meetings that its us (zimpf) who are always attending in numbers while mdc is just there to claim having the majority of supporters but on ground we are attending in numbers as compared to them.
In addition to that she said mdc always transport people from all the country's provinces to attend a demo in a certain province so they can not claim to have more people than us.
She also talked about tsvangirai's address to his supporters telling them the party position in NERA so our party president Joice Mujuru should also do the same and without that we are boycotting all the nera programs.
People raised a point asking why mujuru is taking party in demos after when she is claiming that our party motto is "VAKA ZIMBABWE MURUNYARARO".
This is against our party ideogies and she must be reminded of this. Also people were against the office advisory committee that gives mujuru ideas yet there are people like mutasa and gumbo who can advise the rightful things.
Also raised was the issue of mdc media department which is very active in covering demo programs and quickly share through the social network platforms and all the platforms that can attract the donors.
Therefore the outcome of the meeting was that the secretary general mai Jatira (will find out the first name) should draft a letter to Mujuru booking for a meeting at her place in highlands or at her farm in Beatrice as soon as possible.
AOB:
Vambe's issue which led to her resignation shall be tackled by Munyaradzi Banda on Monday 24/10/16 in a provincial meeting.
But Chuma said we cannot afford to lose people like Vambe she is very hard working and her constituency harare south was the 1st to sell two receipts books in a month all because of her.
Chuma advised the women provincial members not to make zimpf an intimacy platform. She said this is not to be shared as vambe's issue is believed to be led by intimacy relationship.
She is a provincial member and was in love with the constituency chairman who later proposed love to the constituency chairlady.
That did not go well with vambe who decided to quit politics because of this disappointment.
Susan Chuma even told the attendees that do not lower your grade by being in province and fall in love with a ward or a constituency member whom you recruited its a shame.
Sent from my iPhone