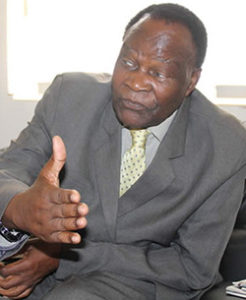 Terrence Mawawa, Masvingo Psychomotor Minister, Josaya Dunira Hungwe has said Zanu PF members and war veterans will go to war if President Robert Mugabe loses to opposition parties in the crucial 2018 elections.
Hungwe, who is the most senior party member in Masvingo Province said soldiers would be hired to campaign for the ruling party ahead of the 2018 polls. Speaking at a Zanu PF inter district party meeting held at Masvingo Polytechnic last Saturday, Hungwe boasted of the orgy of violence perpetrated by state security agents against supporters of opposition parties.
Hungwe mentioned Major General Engelbert Rugeje who helped Zanu PF in the June 2008 violent campaign-saying soldiers were ready to defend Mugabe and the ruling party. In 2008 Rugeje produced a pistol and threatened to shoot supporters of the Morgan Tsvangirai led Movement For Democratic Change (MDC) party.
Hungwe said:"Yes we can go to war we can also hire our army to help us.We will never allow opposition political parties to rule this country. President Mugabe will be our candidate for the 2018 polls.Anyone who does not have war credential will not rule this country. We will make sure Zim People First will not win. It started in the bible when armies were hired to defend kings. President Mugabe is our king hence the need to use soldiers to defend him and his party." Hungwe also threatened to call Rugeje to lead another violent campaign in 2018.