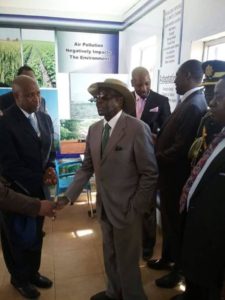 Seemingly unmoved President Robert Mugabe today showed his face at the Harare Agricultural Show, at a time when he is faced with the strongest resistance to his rule, in many years.
Mugabe whose Zanu PF party is imploding as the battle to replace him rages on, put up a fine show in dress and posture as he sent his many enemies an 'I do not care' message.
Opposition political parties will make history tomorrow when they form a united front, take to the streets led by among many Mugabe's own former deputy, Joice Mujuru, his former Finance minister Simba Makoni; other long time opposition figures who include Morgan Tsvangirai, Tendai Biti, Nelson Chamisa, and new parties represented by Barbara Nyagomo among others. It is the first time Zimbawe's opposition has been able to unite and take a stand on issues of common interest, tomorrow will test the unity and its durability.
State media reports that President Mugabe was accompanied by the Minister of Agriculture, Mechanisation and Irrigation Development Dr Joseph Made, the president of the Zimbabwe Agricultural Society (ZAS) Mr Ngoni Kudenga, the chief executive of ZAS Dr Anxious Masuka, the Chief Secretary to the President and Cabinet Dr Misheck Sibanda and his deputy Retired Colonel Christian Katsande.
Mugabe met the show organisers briefly first, before calling on the first stand, the Premier Service Medical Aid Society.
He was briefed on the latest trends and innovations in different health sectors that the medical service association has introduced.
They also briefed him of some of the activities that are the society is carrying out during the show where members of the community are taught about different aspects of health care.
On the second stand that Cde Mugabe visited, the agricultural produce section, where small scale and communal farmers products are displayed, the President saw high quality produce and vegetables that included potatoes, sweet potatoes, cassava, citrus fruits and various indigenous maize seed varieties like hickory king, orange maize and maroon maize varieties called ndunkya maize.
A huge range of pumpkin varieties was also on display with the flat boer the size of a 10 litre bucket topping the pumpkin displays.
In the tobacco hall, the President was told that the local industry has come up with a new seed variety T75 which drought is tolerant.
They have also introduced a drip kit and distributing gum plants to combat afforestation.
Some special barns for tobacco curing are also on display at the stand.
At the Seed Co stand, one of the country's leading seed manufacturers, the President and his entourage saw drought and pest resistant maize varieties, wheat and cabbage crops.
The livestock section generated a lot of interest for the show goers.
Many parts of communal farming communities experienced losses due to inadequate water.
Despite all those adversities, there was a huge population of animals on display.
The sheep and goats numbers was highly visible and the President also took high interest interacting with the exhibitors.