LIVE REPORT:  This is a hot developing story. REFRESH THIS PAGE FOR UPDATES AS THEY HAPPEN.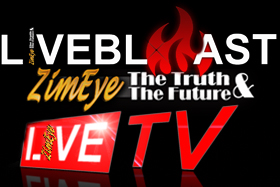 Staff Reporter, Kariba| ZPC coach and former national team player, Sunday Marimo Chidzambwa bolted from a scene of accident on Wednesday morning after his car that was being driven by a lady said to be his girlfriend hit a dura-wall.
The girlfriend is 23, and Chidzambwa is 64 years old.
Shocking pictures show the coach's car smashed into a house.
Although Chidzambwa was seen flinging his cellphone, ZimEye can reveal witnesses say it was actually his girlfriend who was driving. His girlfriend fled the scene and Chidzambwa briefly remained and was snapped while standing by the car calling for removal assistance.
ZimEye several times attempted reaching him but telephone calls to Chidzambwa were fruitless at the time of writing.
One witness told ZimEye, "Yanga inemunhu anga achidzidziswa motor vatiza vese pavatsika munhu."
No one was injured at the house which belongs to one, Courage. He however was captured several pictures while making a phone call at the scene of accident.
One source said, "Soon after the accident the driver and Chidzammbwa bolted from the scene but later came back after regaining composure," said one source who attended the scene.
According to sources in the resort town Chidzambwa popularly known as Mhofu was accompanying his girlfriend Tariro Mili when the accident occurred and she was behind the wheel.
Although the accident occurred early in the morning sources said the 64 year old coach was said to be the owner of the car and was with Mili when the accident occurred. LIVE REPORT:  This is a hot developing story. REFRESH THIS PAGE FOR UPDATES AS THEY HAPPEN.
Background
Chidzambwa has played for Dynamos and managed it since 1984. He was the Zimbabwe national team coach from 2000 to 2003; South Africa based Umtata Bush Bucks, 2004, national team 2007 till 2010 before going to South Africa to coach Free State in 2010, and later Black Leopards from 2010 till 2012
before he joined ZPC.
….

Posted by ZimEye on Tuesday, April 11, 2017