Auxillia Mnangagwa Promises To Build Schools For Sixty Year Old Female War Veterans Who Didn't Go To School During The War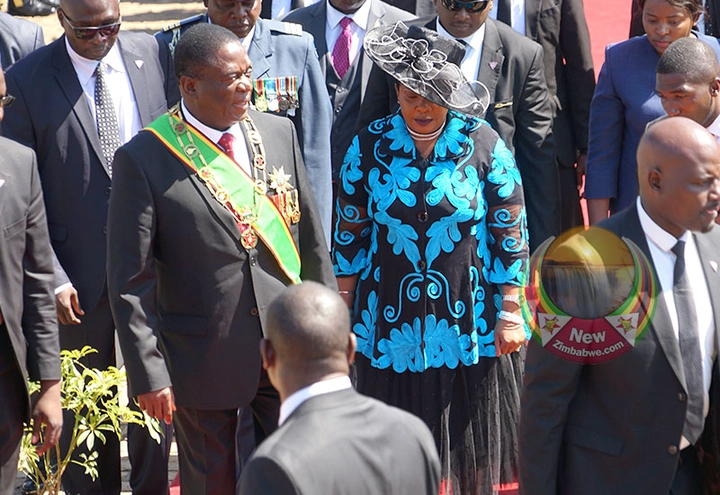 Paul Nyathi|FIRST Lady Auxilia Mnangagwa has called for the establishment of a school for female war veterans, who said some of them never went to school after the war.
Mrs Mnangagwa said those who wished to go back to formal education would be given vocational training.
Zimbabwe came out of the liberation war 39 years ago in 1980 and the youngest war soldier at that time was about 18 years meaning that the youngest war veterans that Mrs Mnangagwa wants to take back to school could be about sixty years now.
"You should remain united as female former fighters so that when you speak, you speak with one voice for your benefit and for the benefit of the country.
"You should also do your projects in groups and this is only achieved if you are united," she said.
Mrs Mnangagwa further called for the declaration of a 'Liberators Day' in honour of all those who participated in the liberation struggle.
"We want a day to remember our liberators. Other countries do it to their liberators so that their born frees know their history," said the First Lady.
Zimbabwe already has a Heroes holiday on which those that fought in the Second Chimurenga are remembered. Namibia, Tanzania, Zambia and South Africa have liberation days on their calendars.
Auxillia encouraged female war veterans to take up leadership positions in politics and other government institutions such as parastatal boards.
"Women are very few in politics and parastal boards. Let us not cry that we have been prevented into getting into leadership positions. Women can work harder than their male counterparts. Let us get into leadership positions," she said.
The First Lady promised to uplift the livelihoods of female former freedom fighters whom she said were living under harsh economic conditions.
"There are no jobs . We want you to be self –reliant. You should organise yourself into groups and we will see what we can do. I know you have a lot of things to be done . It will be done," said Auxillia.
She added that the Ministry of Women Affairs will soon be rolling out various projects for women war veterans.
"The Ministry will assist you with funds to manufacture things like soap and detergents. We also want you to venture into projects like goat and cattle rearing," she said.
The First Lady also implored the female war veterans to mobilise people to participate in the Zanu PF's organised ant-sanction march in Harare on 25 October this year.
"You are suffering because of sanctions. Please make sure that you mobilise people to participate in the ant-sanction march in Harare," she added.
She urged them to come out in numbers to march against sanctions on October 25, a day set aside by the SADC bloc to call for the unconditional removal of the targeted sanctions on some senior ZANU PF officials and businesses.
"I want to thank you for coming out in your numbers so that we have a heart to heart talk as women," she said.
"You are important to us for you liberated this country. However, the war is not over yet, we have another war on the 25th (of October) where we will be fighting against sanctions.
"We want the sanctions imposed on our country to be removed. They have caused untold suffering. We also want to thank SADC for standing with us in this fight."
She said women should support the anti-sanctions march as it was not "about a certain political party, this is about our nation Zimbabwe".
The United States of America has meanwhile since declared that ZANU PF is deliberately misinforming the nation of the issue of sanctions indicating that it has not put up any sanctions against the country.
Mrs Mnangagwa promised to pass the concerns of female former combatants to President Mnangagwa. She rolled out goat-rearing projects for former fighters in Matabeleland North and Matabeleland South provinces. She also donated sewing machines for those from Bulawayo who are expected to start producing reusable sanitary pads.
The female war veterans were drawn from Bulawayo, Matebeleland North and South provinces.
Minister of State for Bulawayo Judith Ncube and war veterans secretary in the Politburo Douglas Mahiya also attended.