Ronaldinho Thrown To Prison In Paraguay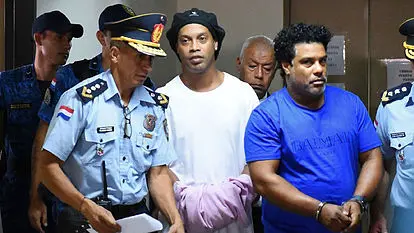 Own Correspondent|Ronaldinho and his brother Roberto were transferred to a prison in Asuncion on Saturday after a judge ordered them to be imprisoned without bail.
The pair were arrested this week after the former Barcelona star entered Paraguay with a false passport.
Ronaldinho is currently without his Brazilian passport due to an environmental fine he received in 2018.
The magistrate, Clara Ruiz Diaz, explained the decision to give Ronaldinho imprisonment without bail to the media after the court session.
"[There are] elements that indicate that [Ronaldinho] used authentic documents with false content," she said.
Ronaldinho and his brother could remain in prison for up to six months as the investigation is carried out.
Ruiz also explained why the pair weren't granted house arrest instead of imprisonment without bail.
"There is a danger of escaping, a foreigner who entered the country illegally," she stated.
"I respect his sporting popularity but the law must also be respected. No matter who you are, the law still applies", Paraguay's Interior Minister Euclides Acevedo told local media this week.
The 39-year-old had travelled to Paraguay to promote a book and a campaign for underprivileged children.
Ronaldinho was the 2004 and 2005 World Player of the Year and reached the prime of his career at Spanish giants Barcelona. He won the World Cup for Brazil in 2002 alongside fellow superstar forwards Ronaldo and Rivaldo.
Ronaldinho's net worth is estimated at £80-100m and he is reported to charge around £150,000 for a single promoted Instagram post.