Russia Africa Summit, Putin Commits Giving Guns To Africa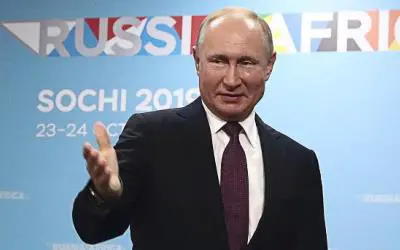 Russian President Vladimir Putin at the Africa Summit in Namibia
After decades of absence, Russia reappears as a power factor in Africa. The giant empire may be late, but it is reviving old contacts and exploiting gaps left by the US and Europeans. Putin's great Africa summit in Sochi has now begun.
203 mainly Russian soldiers, three combat helicopters, military technology of the latest generation, two types of military trucks in Mozambique are listed by South African terrorism expert Jasmine Opperman. The armed arrived in September in Mozambique's gas-rich troubled province of Cabo Delgado. Even if official confirmations of this military presence are often lacking: Russia is flying the flag again in Africa.
The best proof of this is the first Russia-Africa summit in the Black Sea city of Sochi. Until Thursday, host Vladimir Putin expects 44 heads of state and government from the African continent at the two-day meetings. 10,000 summit participants from 54 African states and Russia have been invited. "Africa is increasingly becoming a continent of opportunities," Putin told the State Agency Tass before the start of the summit. He announced that billions would be invested in Africa.
Around three decades after the collapse of communism, Russia wants to build on old contacts from Soviet times. Russian Africa expert Leonid Fituni recalled in an article by Nezavisimaya Gazeta that the former Western colonies had gained their freedom under Moscow's influence. At the time, the Soviet Union had helped the countries to build their own economies. Hundreds of thousands of Africans had been trained in Russia.
The vice-president of the Africa Institute of the Russian Academy of Sciences is convinced that Russia today could benefit from the "gold-rush atmosphere" in Africa. Fituni refers to the Chinese, who have been expanding their influence on the continent for years. Under pressure from anti-Russian sanctions imposed by the US and the EU, the country could take advantage of the African growth market. "They are very interested in our weapons, especially since they have been successfully deployed in zones of regional conflicts," said Fituni.
The volume of trade will grow enormously
But when Putin leads the summit with Egypt's President Abdel-Fattah al-Sisi as chairman of the African Union, it is about more than arms. Russia wants to export grain and agricultural machinery, aeroplanes and space technology, trucks, chemical and pharmaceutical products. The trade volume could triple from 20 billion US dollars (2018) in the coming years, they say. By comparison, the Chinese-African trade volume is already ten times higher – at 204 billion US dollars (2018).
It is also clear, however, that in addition to economic interests for Russia, geopolitical considerations are also at stake. The great power, self-confident again under Putin, wants to leave neither China nor the West – especially the USA – to Africa. Russian commentators have already declared Africa the battlefield of a new Cold War with the West. According to the media, the Russians have recently reached military and political agreements with some 30 African states.
"Russia is also heavily involved militarily in the Central African Republic," says Günter Nooke (CDU), the Federal Government Commissioner for Africa. From Congo to Egypt, from Sudan to the Central African Republic, there is growing evidence of increased Russian involvement in Africa. Often – as in Mozambique – Russia sends out paramilitary guards or military advisors who are declared private.
"Private military enterprises are not necessarily bad," explained the new Russian ambassador to South Africa, Ilya Rogashov, at a seminar at the University of Pretoria. When asked, he confirmed to the Daily Maverick news portal that Moscow also had political control over them.
Reports about these paramilitary groups are not easy, investigations sometimes life-threatening. Three Russian journalists who researched the alleged use of mercenaries from their homeland in the Central African Republic last year were killed at work. The background to the crime and the machinations of the so-called private Wagner group remained unclear.
Russia has strategic and commercial interests
But it is not always just about raw materials, as in Mozambique's Cabo Delgado province, where foreign corporations are hindered in the exploitation of the rich gas deposits by the Islamist terrorist. Strategic and commercial interests are often closely interwoven in Russia's African comeback. As in Mozambique, a former civil war country, Russia can often refer to old contacts. In Africa there were proxy wars in which Soviet military played a role during the Cold War. In addition, many African politicians were once trained in Russia.
Contacts are also being established in South Africa. The two countries work together in a group of emerging countries Brazil, India and China-"BRICS" for short. After Russia tried for a long time in vain to sell nuclear power plants to the post-apartheid state like some other states on the continent, it is now seeking military solidarity there. At the end of November, the South African naval base of Simons Town could be in a tight spot if warships from China and Russia were expected there in the run-up to a planned three-nation manoeuvre.
Francis Tawiah (Duisburg – Germany)