Mozambique Terrorism Sequel, Mnangagwa's Footprints Visible…
Terrorists in Mozambique Investigated.
Fake Pictures.
Fake Mission.
Strong Obsession On Zimbabwe, beginning to end
Fake President.
Mozambican opposition says it's the government soldiers killing civilians,
By Simba Chikanza| ANALYSIS | There are some digital footprints from within as well as from outside Mozambique that suggest that the terrorists currently operating in that country were created by Zanu PF leader Emmerson Mnangagwa likely so he can unleash military rule over the Beira corridor: it's all about money and getting it by blood. He's been doing this since 1983. He created Richard Gwesela (who was killed by a newspaper article, literally), and up to as late as 2018 when we we finally witnessed the Terrorist game played before our eyes on LIVE on video. It's a well known game by the politicians and innocent people die.
In recent weeks, we have been told of Christians being killed by so-called Islamic militants in Mozambique. Are they real terrorists and not mere political agents on a special assignment? Let's hear from the Mozambicans themselves what they are both seeing and saying.
Of the 59 tweets published by 'the Mozambican Islamic militant group,' on a Twitter handle, 90% of them are attacking Zimbabwe; their very first one on the 29th April 2020, is a direct message to Emmerson Mnangagwa, and the last one, late Monday evening 9pm, refers to Zimbabwe. Why are these "terrorists" so obsessed with Zimbabwe beginning with their very first tweet?
Of the pictures published of the terrorists lately and on their Twitter account, FranceAlRasa, one is unmasked as a 2015 photo, and the second (used by a South African publication, Daily Maverick, which claims they got it via Telegram from the group last year, has its first citing way back in June 2018 over in Europe, Turkey, nowhere near Africa.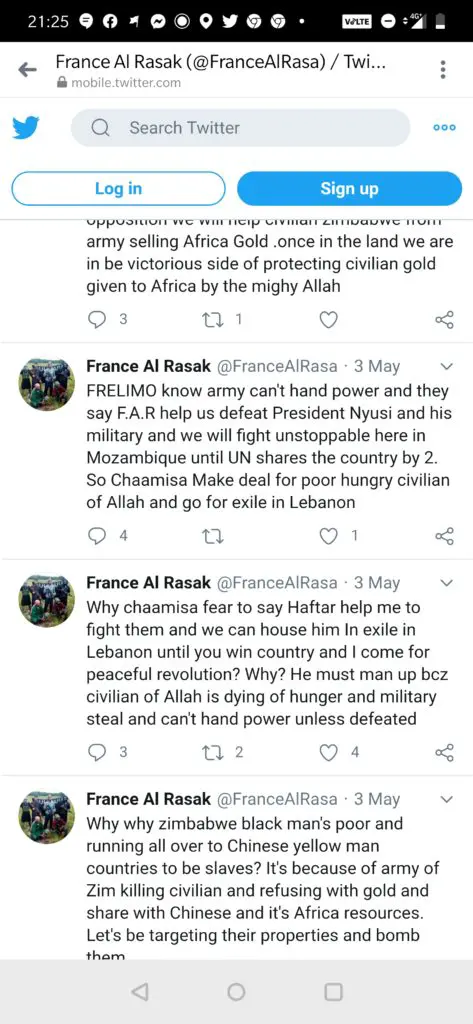 The Twitter account FranceAlRasa, was created on the 29th April 2020, well in advance of Mnangagwa's visit there (just a day before).
If this group is genuinely Mozambican not from Zimbabwe, then I am a Russian by birth!
The correlation of timing as well as the desperation to rebuild the economy using military metal all point to one thing – a brute politician's methods repeated for over 37 years since the 4th of May 1983.
One possibility – mere malicious intent
One possibility suggests that the Twitter account was created by a mere malicious person who is seeking to agitate war against Emmerson Mnangagwa. This is a very strong likely, and many citizens are known for doing these things in the past as they vent their anger against the government. If this is the case however how did the individual (s) know that Mnangagwa would fly over to Mozambique at the end of the week? The person who did this could thus only be an insider, or at least a person with insider state-knowledge.
Furthermore if that is true, on Sunday, the nation witnessed ZANU PF's most prolific pressure group, screaming on social networks that Zimbabwe National Army must be deployed to Mozambique with immediate effect, today. They said they must do this in order to crush ISIS. They are confident that they will win this war. Very soon ZANU PF will throw a party telling the whole world that Emmerson Mnangagwa is the only politician who can crush ISIS. He has done it in Mozambique! Perfect. We will all believe them, because we did not care to investigate.
And why is ZANU PF suddenly agitated for war?
Does Mozambique have Islamic militants? Who is funding them?
Since Mnangagwa created fake polling stations in Masvingo for Phillip Nyusi 7 months ago, and someone printed fake IDs for scores of Zimbabweans who have never set foot in Mozambique to vote for Nyusi, what is his next move? The current Chairman of the SADC Politics, Defence And Security, is well known for creating terrorists who work for him and his story is documented for a long 37 year period. It brings up the question of what SADC is all about when it appoint someone who has killed more blacks than apartheid South Africa to head its defence and security, but well, this is a very very long discussion for another day. A very long one.
Local agencies in Mozambique quote the opposition in that country complaining that the state is murdering civilians.
Mozambique's interior minister, Amade Miquidade, last month attacked what he described as dis-information spread by independent journalists who are calling into question the credibility of Mozambique's security forces.
He also blasted Jose Manteigas, a spokesman for Renamo, the main opposition party, who has accused the country's security forces of "murdering" civilians.
Miquidade said the security forces "will not tolerate these acts of subversion."
Zitimar news agency, quotes Manteigas alleging that Mozambique's security forces killed 12 civilians — including two Renamo members — when they attacked boats at jetties on Ibo island in mid-April.
In another report, the interior minister has claimed that security forces have since put the situation in Cabo Delgado under control.
"The situation in Cabo Delgado, at this moment, is under control. What does that mean? We have identified where the enemy is, what are their bases, what are their camps and their movements; while, the defence and security forces are strategically preparing for yet another offensive," said Miquidade.
Seeing that Mnangagwa is officially assisting Nyusi with political direction, what kind of mentorship is Emmerson Mnangagwa giving the Mozambican leader, a professional one? How is the story unfolding?
So far, the report begins on the 4th May 1983, when Mnangagwa created fake terrorists having abducted and killed 6 western tourists. The victims were: Brett Baldwin, 23, of Walnut Creek, Calif., and Kevin Ellis, 24, of Bellevue, Wash.; Britons James Greenwell and Martyn Hodgeson; and Australians Tony Bajzeli and William Butler.
The Gwesela sequel.
ZIFA's spokesperson, Xolisani Gwesela has in recent days responded to allegations by some quarters in Matebeleland who attack him saying that he is the son of the notorious so called dissident, Ranson or Richard Gwesela, a terrorist Mnangagwa created in the 1980s.
Gwesela is the infamous "immortal" character who the Zimbabwean military claimed they were after between 1983 and 1987 when they continued to kill civilians until more than 22,000 people were massacred. He was immortal for a whole 4 years and only "killed" when ZANU PF now wanted to sign a unity accord with Joshua Nkomo's ZAPU party in 1987.
Thousands of people sensationally flocked to a police station in Gweru on the 18th November 1987 for a glimpse of the bullet-riddled corpse of Zimbabwe's most wanted "fugitive."
Zimbabwe Republic Police say Richard Gwesela, a former guerrilla fighter, was a gang leader who terrorized the people of two provinces for four years.
Gwesela was alleged to have murdered 20 people in the Midlands and neighbouring Matabeleland provinces. He also was said to have raped women and robbed villagers.
In silence, onlookers walked past his body sprawled beneath a wanted poster offering $30,000 for him, dead or alive.
The state media said Gwesela was the country's most wanted man, and was killed in a gunbattle with Zimbabwean security forces near Gweru "on Sunday," earlier.
His death was reported for the first time three days later, on the Wednesday. There were no independent investigations to confirm the state media report.
His mother and an uncle identified the corpse as Gwesela, and police fingerprints confirmed the identity, according to the state media report.
″Gwesela had killed more than 20 people since he started operating in the area,″ Enos Nkala, home affairs minister in charge of police, told reporters. ″Now he is going to join them, whether in heaven or hell, we don't know," he said.
NEW TWIST.
33 years later, some Mthwakazi activists have begun claiming ZIFA's Gwesela was rewarded the sports job for a sterling role the supposed father played as an insider who staged for Emmerson Mnangagwa during Gukurahundi in order to kill civilians, pursuing Emmerson Mnangagwa's terror operation to kill people under the guise of flushing out dissidents.
One activist makes the above chilling allegations (pic).
Responding however, ZIFA's Mr Xolisani Gwesa told ZimEye, the so called Gwesela was not even a real Gwesela.
He said: "This writer is waffling. I am shocked by these ghastly falsehoods.
"I am the son of the late Chief Gwesela whose real name was Cornelius Nobody Gwesela Ndebele who died in 1996.He was never a dissident. The so called "dissident Gwesela" was never a Gwesela and his real name was Zedious Mangena.
"I am holder of a Masters Degree in Media and Society studies, Post grad Diploma in Media , Bsc Honours degree , Diploma in Management and Diploma in Sport Management.
"I have over 15 years experience in media management and sport management and events coordination. I joined Zifa purely on merit.
"The Gweselas are also from Zhombe and not Lower Gweru. The Gweselas are also from Zhombe and not Lower Gweru."
ZIMBABWE, THE WORLD'S FASTEST GROWING CROP ECONOMY SUDDENLY CRASHED FOLLOWING MNANGAGWA'S PRONOUNCEMENTS
Rhodesia, was once the worst hit African economy by both United Nations sanctions and a debilitating 14 year running civil war from within, and yet by 1976, it had been hailed as the world's fastest growing crop economy. So what really went wrong? Soon after 1980, it was handed over to Robert Mugabe and his state security minister Emmerson Mnangagwa, who less than 3 years later launched a military crackdown against civilians who he personally described as cockroaches who must be wiped out using DDT. That operation destroyed the economy in ways exactly similar to the recent 1 Aug 2018 military crackdown (which the Finance Ministry has told The Motlanthe Commission has cost the nation USD16 billion.) Zimbabwe's economy began crumbling following Mnangagwa's words on the 4th April 1983:
"Blessed are they who will follow the path of the Government laws, for their days on earth will be increased. But woe unto those who will choose the path of collaboration with dissidents for we will certainly shorten their stay on earth."
As Minister of State Security, Mnangagwa was in charge of the brutal massacre of more than 22 000 Ndebele. He labeled dissidents 'cockroaches' and the killers of the Fifth Brigade army unit as 'DDT,' an insecticide.
Economy data shows how the country's GDP crashed down following the operation, and effects were immediately felt from 1983 all the way to 1985.
Fast forward to the period 2004 – 2018 more evidence shows the correlation between economic performance and the rule of law, specifically human rights adherence.
MNANGAGWA'S METHOD.
But Mnangagwa's method is different. He operates on the belief that an economy is only built by killing people, and his appetite for shedding blood is evident for 40 years to date during which he has killed more blacks than apartheid South Africa. On the 2nd January, 2020, he told residents of Kuwadzana, Harare that he will send the army after them once he suspects them to have stopped the rain. This came barely 2 years after he deployed the military to change election results and citizens for the first time witnessed soldiers opening fire against shoppers going about the day-to-day business.
What kind of mentorship is Emmerson Mnangagwa giving the Mozambican leader, a professional one?
There is no doubt that Mnangagwa will deny all this evidence even to the Mozambicans. But his file is now full and fat, a whole 37 years full.